We wish to thank all of the BackgammonMasters members who participated in the Tournament and made this event so enjoyable!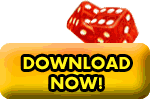 WISCONSIN STATE BACKGAMMON CHAMPIONSHIPS
Tom Machaj and Sam Pottle are 2 of the finest directors in backgammon!
BackgammonMasters was proud to sponsor this event. The event was memorable
and a fun time was had by all! The top winners in this event were:
July 28-30, 2006; Madison, Wisconsin
CHAMPIONSHIP 1st Place Jeff Nitschke (MN)
ADVANCED 1st Place Wayne Wiest (IL),
LIMITED 1st Place Steve Reuschlein (WI),
BADGER CLASSIC 1st Place Fred Kalantari (MN)
DOUBLES 1st Place Tak Morioka (IL) & Wayne Wiest (IL)
BLITZ (64): 1st Place Linda Rockwell (IL)
EARLYBIRD JACKPOT (16): 1st Place Wayne Wiest (IL)
QUICKIE KNOCKOUT #1 (16): 1st Place Sean Garber (IN).
QUICKIE KNOCKOUT #2 (8): 1st Place Bob Holyon (WI).